T-Cut is the world's most respected Car Care brand. Continually asked for by name, T-Cut delivers top quality, with a wide range of performance products for renovation and restoration of car paintworks. From the T-Cut Original formula to the new innovative T-Cut 365 Kits. T-Cut is available in many variants depending on the kind of paintwork, color, condition, age and the extent of damages.
How T-Cut Color Fast works?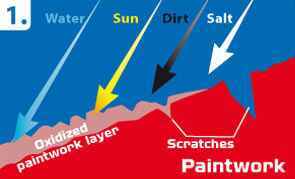 The paint surface is not perfectly smooth. Micro cracks, pores, scratches, and an oxidized top layer of paint promote rapid attachment of the dirt. This also causes loss of gloss and shine and as time goes paintwork becomes more and more dull.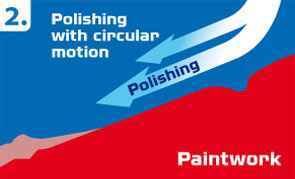 When applying T-Cut Color Fast in to the paintwork surface, the oxidized layer of paint, minor scratches, scuffs and dirt are removed. T-Cut Colour Fast restores original colour whilst gently smoothing and polishing the paint surface.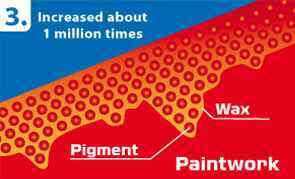 Colored pigments with wax penetrate micro cracks and pores revealing the depth of color. Also masks larger defects.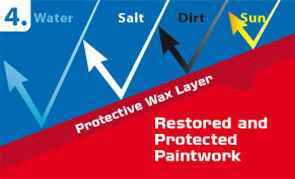 After restoration paintwork is additionally coated with a layer of durable wax, providing a great shine and protecting paint from sunlight, dirt, water and salt.
Waxing paintwork restorer T-Cut Color Fast is not an intrusive car care product, that is why it can be safely, repeatedly used on the car paintwork. It is recommended to use the product twice a year for the entire paint and whenever it is necessary to remove the appearance of scratches, scuffs and dirt.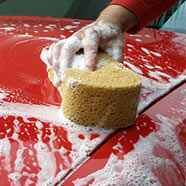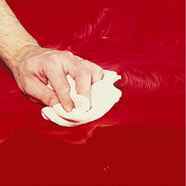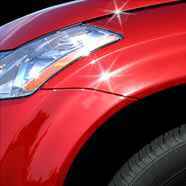 If you want to learn more about how to properly restore car paintwork or read frequently asked questions about the use of T-Cut Color Fast, refer to Marketing Bulletin.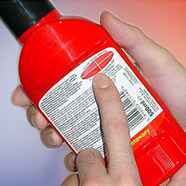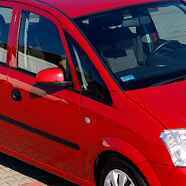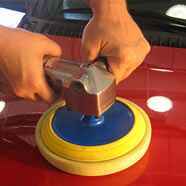 T-Cut Color Fast is a unique, complex car care product.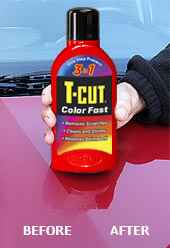 Special composition of polymers, pigments and wax quickly restores the original color, removing the discolored (oxidized) layers of paint and baked in dirt.
Removes minor scratches, smoothes the paint, and colored pigments highlighting colour depth.
Leaves the paint durable with a protective layer of wax, giving it a great shine.
Creates a barrier to help prevent further fading from sunlight.
Suitable for traditional lacquers, metallic and pearl for old and new cars.
Available in 8 colours
Table:
| Colour | Size | Part code | Barcode |
| --- | --- | --- | --- |
| White | 500ml | CMW001 | 5010373007754 |
| Black | 500ml | CMW002 | 5010373007754 |
| Red | 500ml | CMW003 | 5010373007778 |
| Dark Red | 500ml | CMW004 | 5010373007785 |
| Dark Blue | 500ml | CMW006 | 5010373007808 |
| Dark Green | 500ml | CMW007 | 5010373007815 |
| Dark Silver | 500ml | HMW008 | 5010373007822 |
| Silver | 500ml | CMW009 | 5010373009505 |
| Blue | 500ml | CMW011 | 5010373009529 |
| Purple | 500ml | CMW014 | 5010373009550 |
| Yellow | 500ml | CMW015 | 5010373029459 |
| Orange | 500ml | CMW018 | 5010373063910 |
| White Pearl | 500ml | CMW019 | 5010373063927 |